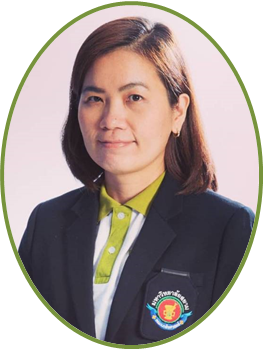 ผู้ช่วยคณบดีฝ่ายประกันคุณภาพการศึกษา
ประวัติการศึกษา
– เภสัชศาสตรดุษฎีบัณฑิต (เภสัชกรรม) จุฬาลงกรณ์มหาวิทยาลัย พ.ศ. ๒๕๕๘
– เภสัชศาสตรมหาบัณฑิต (เภสัชกรรมอุตสาหกรรม) จุฬาลงกรณ์มหาวิทยาลัย พ.ศ. ๒๕๔๙
– เภสัชศาสตรบัณฑิต (เภสัชศาสตร์) จุฬาลงกรณ์มหาวิทยาลัย พ.ศ. ๒๕๔๕
ประวัติการทำงานและประสบการณ์
– ผู้ช่วยคณบดีฝ่ายประกันคุณภาพการศึกษา คณะเภสัชศาสตร์ มหาวิทยาลัยสยาม กรุงเทพมหานคร (กันยายน ๒๕๕๗-ปัจจุบัน)
– อาจารย์ คณะเภสัชศาสตร์ มหาวิทยาลัยสยาม กรุงเทพมหานคร (มีนาคม ๒๕๕๓-ปัจจุบัน)
– ผู้ช่วยผู้จัดการแผนกวิจัยและพัฒนาเภสัชภัณฑ์ บริษัทเมดิกา อินโนวา จำกัด กรุงเทพมหานคร (เมษายน ๒๕๕๐ –กุมภาพันธ์ ๒๕๕๒)
– ผู้จัดการแผนกวิจัยและพัฒนา บริษัทชุมชนเภสัชกรรมจำกัด (มหาชน) กรุงเทพมหานคร (มิถุนายน ๒๕๔๙-มีนาคม ๒๕๕๐)
หนังสือ/ตำรา
–
ผลงานวิจัย/บทความวิจัย
– W. Sirikun, J. Chatchawalsaisin and N. Sutanthavibul. Solid State Characterization and Interconversion of Recrystallized Amodiaquine Dihydrochloride in Aliphatic Monohydric Alcohols. AAPSPharmSciTech. 2015 Apr;17(2) pp. 427-35.
– W. Sirikun, N. Vardhanabhuti and N. Sutanthavibul. Organic solvent and acid induced conformational modification of model peptide lysozyme. Solid State Phenomena, V.121-123 (2007) pp759-762 (online at http://www.scientific.net)
เอกสารนำเสนอในงานประชุมวิชาการ
– C. Mheankaew, S. Ployngam, N. Patthanothai, P. Krainara, W. Sirikun. Development of vehicle for extemporaneous preparation. The Eighth Indochina Conference on Pharmaceutical Sciences (Pharma Indochina VIII): ASEAN Pharmacy – Integration for Development 2013 pp. 463-465.
– C. Mheankaew, K. Piemfa, T. Tulachotikul, K. Doroman, W. Sirikun. The Stability Comparison of Ranitidine Hydrochloride Extemporaneous Suspensions which Prepared from Different Commercial Tablets. The Journal of Interdisciplinary Networks, special issue on Interdisciplinary Research and Development in ASEAN Universities. Vol.2 (Special Issue), No.1, Jan-Jun 2013. pp. 89-92.
บทความวิชาการ
– ชลธิชา สอนสุภาพ, สุจิตรา เป๋าปองสุข, กุลนิฏย์ งามเจริญ และวิริยาพร ศิริกุล ผลของยาเม็ด      รานิทิดีน ไฮโดรคลอไรด์ ต่างบริษัทต่อความคงตัวทางกายภาพของยาเตรียมเฉพาะคราว Medicinal and Health Product Bulletin 2014 Vol.๑๗ No.๒ pp. ๔๐-๔๗