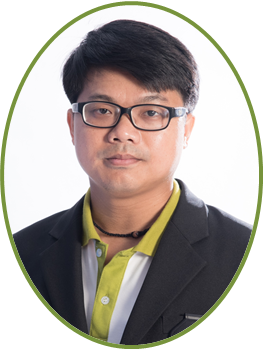 อาจารย์ประจำ
ประวัติการศึกษา
– Board Certified Pharmacotherapy Specialists (Board of pharmacy specialties of America)
– Specialized residency in Infectious Disease pharmacotherapy วิทยาลัยเภสัชบำบัด
– General residency in Pharmacotherapy วิทยาลัยเภสัชบำบัด พ.ศ. ๒๕๕๕
– เภสัชศาสตรบัณฑิต คณะเภสัชศาสตร์ มหาวิทยาลัยมหิดล พ.ศ. ๒๕๕๑
ประวัติการทำงานและประสบการณ์
– อาจารย์ประจำคณะเภสัชศาสตร์ มหาวิทยาลัยสยาม (กุมภาพันธ์ ๒๕๕๓-ปัจจุบัน)
– เภสัชกรประจำโรงพยาบาลพญาไท (มีนาคม ๒๕๕๑-มกราคม ๒๕๕๒)
หนังสือ/ตำรา
–
ผลงานวิจัย/บทความวิจัย
– So-Ngern A, Montakantikul P, Manosuthi W. Clinically significant drug interactions among HIV-infected patients receiving antiretroviral therapy. Southeast Asian J Trop Med Public Health. 2014 Sep;45(5):1023-31.
บทความวิชาการ
– อภิโชติ โซ่เงิน. Antimicrobial Pharmacotherapy of Fluoroquinolones. ใน คู่มือการใช้ยาต้านจุลชีพอย่างเหมาะสม 2nd edition. หน้า 167-182. วิชัย สันติมาลีวรกุลม ชาญกิจ พุฒิเลอพงศ์, ศิริกานต์ ศรีโสภา, แสง อุษยาพร, ปรีชา มนทกานติกุล, บรรณาธิการ. กรุงเทพฯ: สมาคมเภสัชกรรมโรงพยาบาล (ประเทศไทย), ตุลาคม 2558.
– อภิโชติ โซ่เงิน. Intra-thecal and Intra-ventricular antibiotic administration ใน Trends in infectious disease pharmacotherapy 2014. หน้า 83-89. สุทธิพร ภัทรชยากุล, ณัฐาศิริ ฐานะวุฑฒ์, โพยม วงศ์ภูวรักษ์, มาลี โรจน์พิบูลย์สถิตย์, สุชาดา สูรพันธ์, ฐิติมา ด้วงเงิน, บรรณาธิการ. สงขลา : ภาควิชาเภสัชกรรมคลินิก คณะเภสัชศาสตร์มหาวิทยาลัยสงขลานครินทร์, 2555.
– อภิโชติ โซ่เงิน. Therapeutic options for catheter related urinary tract infections: focusing on Pseudomonas aeruginosa ใน contemporary reviews in pharmacotherapy 2012. หน้า 197-205. ปรีชา มนทกานติกุล, ชาญกิจ พุฒิเลอพงศ์, วิชัย สันติมาลีวรกุล, บรรณาธิการ. กรุงเทพฯ: วิทยาลัยเภสัชบำบัดแห่งประเทศไทย สภาเภสัชกรรม, 2555.
– อภิโชติ โซ่เงิน. โรคติดต่อทางเพศสัมพันธ์ (Sexually transmitted diseases) ใน Pharmaceutical diagnosis 2010 : diversity in pharmaceutical care. เฉลิมศรี ภุมมางกูร, ปรีชา  มนทกานติกุล, สุวภาพ เตชะมหามณีรัตน์, บรรณาธิการ. กรุงเทพฯ: โรงพิมพ์ คณะเภสัชศาสตร์ มหาวิทยาลัยสยาม, ๒๕๕๓.