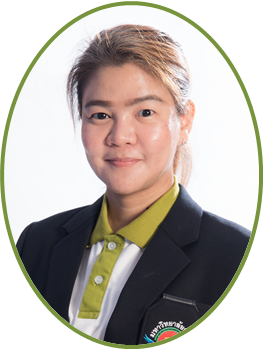 อาจารย์ประจำ
ประวัติการศึกษา
–  Board of Pharmacy Specialist (BCP) in Pharmacotherapy, American Pharmacist Association พ.ศ. ๒๕๕๔ – ๒๕๖๑
–  Pharmacy Practice Residency, University of Illinois at Chicago Medical Center, Illinois, United State of America พ.ศ. ๒๕๕๔
–  Doctor of Pharmacy (PharmD), University of Illinois at Chicago, College of Pharmacy, Illinois, United State of America พ.ศ. ๒๕๕๓
–  เภสัชศาสตรมหาบัณฑิต (เภสัชกรรมคลินิก) จุฬาลงกรณ์มหาวิทยาลัย พ.ศ. ๒๕๔๕
–  เภสัชศาสตรบัณฑิต (เกียรตินิยมอันดับ ๒)  มหาวิทยาลัยขอนแก่น พ.ศ. ๒๕๔๓
ประวัติการทำงานและประสบการณ์
–   อาจารย์ คณะเภสัชศาสตร์ มหาวิทยาลัยสยาม (มีนาคม ๒๕๕๐ ถึง ปัจจุบัน)
–   อาจารย์ คณะเภสัชศาสตร์ มหาวิทยาลัยมหาสารคาม (ตุลาคม ๒๕๔๕ ถึง มีนาคม ๒๕๕๐)
หนังสือ/ตำรา
–
ผลงานวิจัย/บทความวิจัย
– Porter A, Gilmartin C, Srisakul U, Arruda J, Akkina S. Prevalence of 25-OH vitamin D deficiency in a population of hemodialysis patients and efficacy of an oral ergocalciferol supplementation regimen. Am J Nephrol 2013;37:568–74.
– อุษาศิริ ศรีสกุล. การศึกษาประสิทธิผลของบทบาทเภสัชกรในคลินิกวาร์ฟาร์ริน ณ โรงพยาบาลตำรวจ. งานประชุมวิชาการเพื่อการพัฒนาที่ยั่งยืน ๒๐๑๓; มหาวิทยาลัยสยาม. วันที่ ๒๙ พ.ค. ๒๕๕๖.
– Srisakul U, Gilmartin C, Akkina S, Porter A, Perumal K. The effect of vitamin D replenishment on hemoglobin and the dose of erythropoietin stimulating agent. The 12th Asian conference on clinical pharmacy (ACCP); Hong Kong. 2012 July 5-10.
– Srisakul U, Anusornsangiam W, Kanjanasilp J, Suthiraksa S, Harnrin R, Sookanenun P, Hirunpanich W. Integration of health promotion in clinical pharmacy courses. The international conference on clinical pharmacy education; Tokyo, Japan. 2006.
– Srisakul U. Community pharmacist monitoring of pulmonary tuberculosis outpatients. The 2nd Asian Association of School of Pharmacy (AASP) Symposium and 2nd APEM Conference; Bangkok, Thailand. 2005 November.
– Srisakul U, Sookanenun P, Osiri S. community pharmacist monitoring of pulmonary tuberculosis outpatients (preliminary report). The 2nd International Conference on Improving Use of Medicines (ICIUM 2004); Chiang Mai, Thailand. 2004 March.
– Aungthararak S, Srisakul U, and Dhumma-upakorn R. Comparison of short-term efficacy and safety between doxycycline and methotrexate therapy in outpatients with rheumatoid arthritis at Rajavithi hospital. The 15th Rajavithi hospital conference Bangkok; Thailand. 2003 February.
บทความวิชาการ
– อุษาศิริ ศรีสกุล. Food supplement for hair loss. ใน: วีระยุทธ โพธิฐิรัตน์, ทักษิณ จันทร์สิงห์, รักษ์จินดา วัฒนาลัย. บรรณาธิการ. The pharmaceutical diagnosis 2013: conference on dietary supplements for community pharmacists; มหาวิทยาลัยสยาม. กรุงเทพฯ: บริษัท ออลอินวัน; พ.ศ. 2555. หน้า.31-40.